You probably know that pigs like to wallow, but do you know why? Did you know that pigs have an excellent sense of smell and very advanced cognitive abilities?
Thanks to this new species sheet, you will soon know everything about pigs!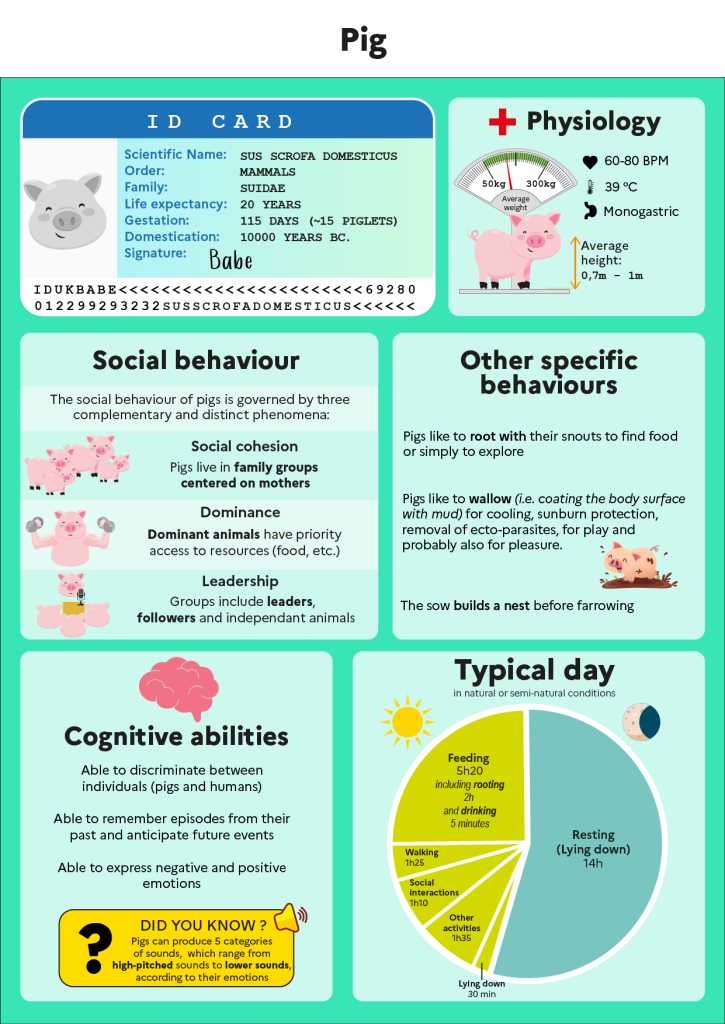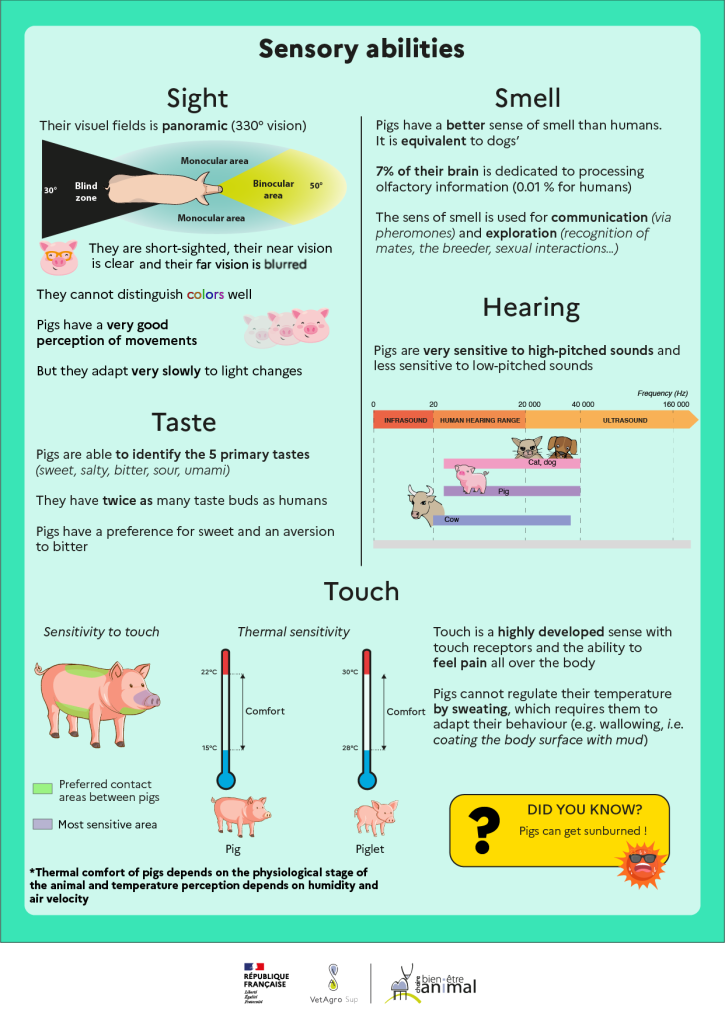 This species sheet was reviewed by Céline Tallet, researcher specialized in human-pig relationships and Valérie Courboulay from IFIP
For more information:
Courboulay V, Depoudent C, Ramonet Y, Villain N, Kling-Eveillard F, Barbier P, Pol F, Vermeil de Conchard R, Delion M, Paboeuf P, Boivin X, Tallet C La Méthode RHAPORC : Apprécier Les Facteurs Qui Modulent La Relation Homme-Animal Pour l'améliorer
Stolba, A.; Wood-Gush, D.G.M. The Behaviour of Pigs in a Semi-Natural Environment. Anim. Sci. 1989, 48, 419–425, doi:10.1017/S0003356100040411
Marino, L.; Colvin, C.M. Thinking Pigs: A Comparative Review of Cognition, Emotion, and Personality in Sus Domesticus. International Journal of Comparative Psychology 2015, 28.
Tallet, C.; Linhart, P.; Policht, R.; Hammerschmidt, K.; Šimeček, P.; Kratinova, P.; Špinka, M. Encoding of Situations in the Vocal Repertoire of Piglets (Sus Scrofa): A Comparison of Discrete and Graded Classifications. PLOS ONE 2013, 8, e71841, doi:10.1371/journal.pone.0071841
Briefer EF, Sypherd CC, Linhart P, Leliveld LMC, Padilla de la Torre M, Read ER, Guérin C, Deiss V, Monestier C, Rasmussen JH, Špinka M, Düpjan S, Boissy A, Janczak AM, Hillmann E, Tallet C. Classification of pig calls produced from birth to slaughter according to their emotional valence and context of production. Sci Rep. 2022 Mar 7;12(1):3409. doi: 10.1038/s41598-022-07174-8. PMID: 35256620; PMCID: PMC8901661.